Easton Lodge Storage offers individual, low cost, high security, self storage units for commercial customers requiring easy access to and from Stamford, Peterborough, Oakham, Wittering and the A1.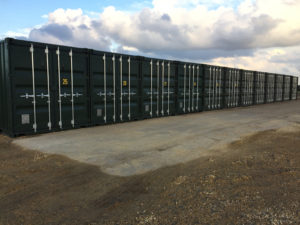 Unleash your full business potential
Free up valuable trading and manufacturing space by moving surplus stock, low demand consumables and archives, into our low cost, secure storage facility.
Use our flexible storage schemes to buy stock in greater quantities for the Christmas rush and benefit from increased sales and bulk discounts.
Take one of our flexible short term leases to store building materials and equipment for nearby projects or as inbetween contracts storage.
EBay sellers can operate more effectively and expand business with one of our flexible, low cost storage units.
Available now! We offer long and short term lets at very competitive commercial storage rates.
Secure, well ventilated and dry, our steel storage units are easily accessible for loading and unloading between 10am and 4pm every day, 7 days a week.
Individual container measurements
20ft x 8ft container, internal dimensions 19ft 3in x 7ft 7in
10ft x 8ft container, internal dimensions 9ft 2in x 7ft 7in
Please don't hesitate to contact us if you require any advice on shelving or other internal storage storage solutions for these units, our friendly storage experts are always pleased to help wherever possible.
Contact Us
Call now to book your commercial storage unit or to find out more about our secure self storage facilities and competitive commercial rates.
If you have not seen our secure facilities, we would be very pleased to arrange a site tour.
We are located very close to Stamford, Peterborough, Oakham, Wittering and the A1, and we are open 7 days a week, 10am to 4pm.
Please use our online contact form if this is more convenient and we will respond promptly during working hours.
We look forward to hearing from you.